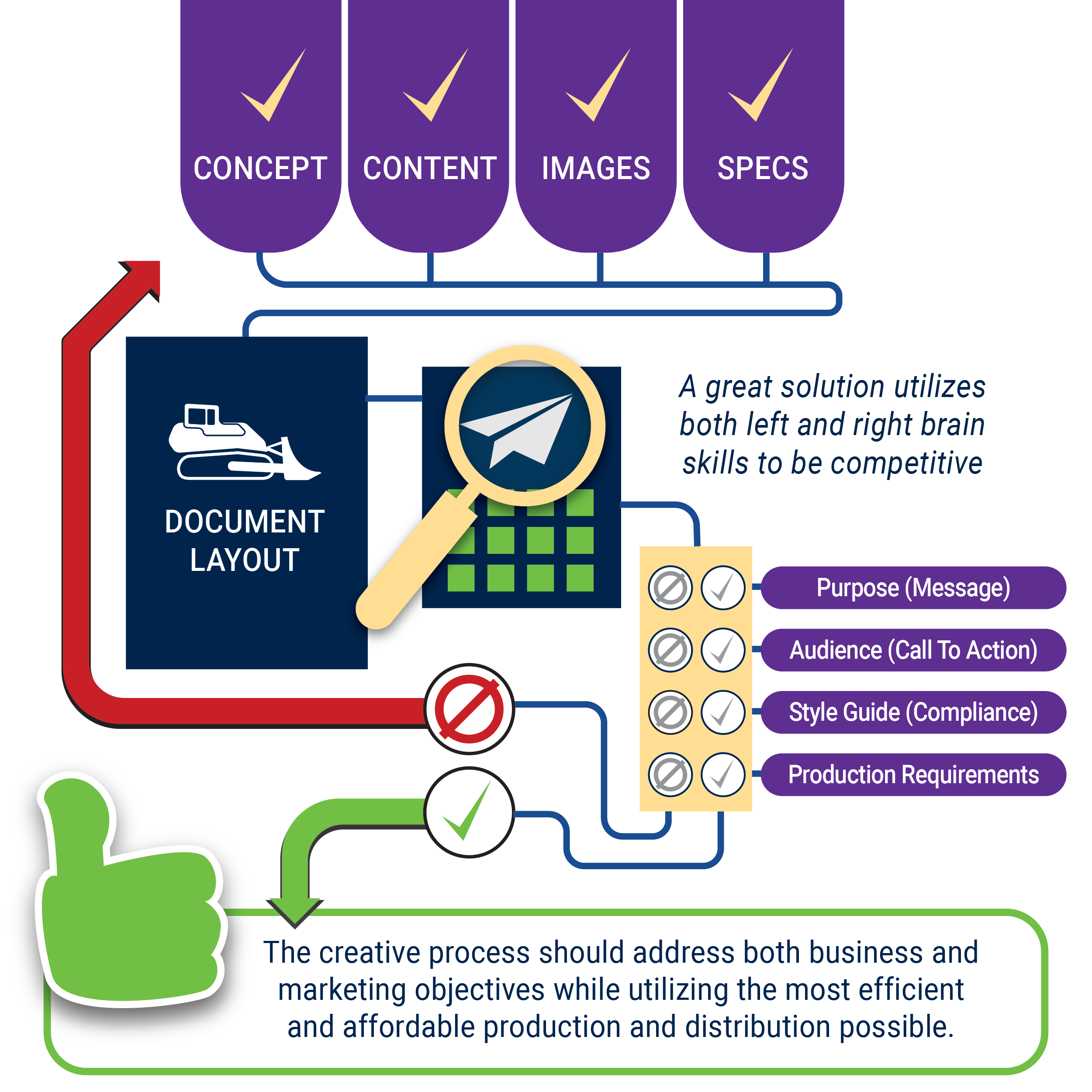 The creative process should always keep the intended purpose of why were creating in the forefront!
You can't print an idea before you undergo the creative process.
Creative Direction: Establish the purpose, the audience, and the project's blueprint/budget.
Create Content/Graphics: Original artwork/images and content or source relevant royalty-free stock material (see degraffics.assetsdelivery.com).
Layout: Combine images and content into a document that meets brand standards and compels the target audience with the intended message and visuals.
Prelfight: Ensure the document is more than pretty, process the final document for production and distribution specification requirments to avoid critical issues. This step is not for finding content or layout errors, its for making files output ready. Making changes to concept/content/graphics at this time restarts the process and increases the budget requirements. Take step 2 super serious and be diligent to avoid budget creep.
By the time a document is sent to production or distributed it's too late to fix any concept, content, or layout issues. Adhering to our tried-and-true creative process will help avoid costly re-runs and public embarrassment. When you need more than pretty pictures, we're your complete creative solution!
Learn More
With so many wide-ranging production methods there is no one art file to rule them all.

BUILT FOR DIGITIZING
Digitizing is the process specific for converting existing artwork into a stitch file that an embroidery machine can sew on a garment.
BUILT FOR SPOT COLOR SEPARATIONS
A vector file is a small, scalable, and editable image. When building a file for screen printing, pad printing, and spot color offset printing vector artwork must be separated into individual color plates. These plates are different when compared to CMYK separations. The use of Pantone Color, in general, means there is a single-color imprint/plate requirement.
BUILT FOR CMYK PRINTING
CMYK refers to the primary colors of pigment: Cyan, Magenta, Yellow, and Black. These are the inks used on the press in "4-color process printing", commonly referred to as "full color printing" or "four color printing".
Printing converts the artwork into plates and by layering different amounts of cyan, magenta, yellow and black ink to produce a final printed product.
Your colors look different on screen than in print because printing uses the CMYK color profile while computers display RGB color values. When using CMYK there are fewer color possibilities. It is important to use CMYK when creating a design for print to ensure your desired colors translate correctly from the computer to the printed product.
BUILT FOR RGB USE
Creating art for use electronic display, or anything with a screen, you will want to use RGB colors. RGB is a device-dependent color and may vary from manufacturer to manufacturer.
When converting RGB to CMYK you will see color loss.
Learn More

Logo & Branding
Logos starting at $495. The support you need to create an identity suite to stand out in today's competitive marketplace. Let's talk about crafting you a unique business card, letterhead and Facebook collateral suite package for only $295.00.
Concept Development
We offer the support you needed to pull your concept together and make them visually presentable. Think of us when you want to create a preliminary draft concept draft concept, low res composition draft layout for visual presentations. We will also collect and organize any templates and production specifications required to ensure that the project can be commenced and deployed properly.
Document Layout
You've organized your thoughts, know what your project requirements are, and now require the assistance from a professional to put it together and make it print ready. We can help! Send us your project brief, include any written text and required photos and we'll do the rest. Junior and Senior Graphic Designers available to work with you, live design appointment or virtual appointments available, and we are always happy to help you create your visuals.
Want Flat Fees?
Everything you need to create and deploy your ideas via print, web and anything you can imagine for one flat monthly fee.

One example of a robust service package is our "Marketing Department Package". It includes 16 hours of support for only $995.00 per month. This package assigns a dedicated project manager, one junior designer and one processing agent as your professional marketing team ready to handle any project you can throw our way. Another example package is our Social Scene Package. We will help you create and deploy 5 article posts to Facebook, Twitter linked back to a blog landing page. Cost is $250 and includes 2 hours of concept development, 2.5 hours of design support and 1 hour for project deployment support.

Have something different in mind... Were always open to new ideas. Let's discuss your needs and find a solution that benefits us both!